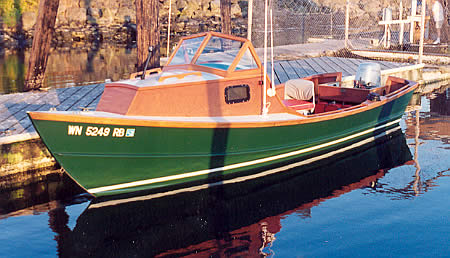 A beautiful example of this design. This client wanted a salmon-catching machine, but also a boat he'd love to use. So this boat has a 40HP Honda in a splashwell, a teak windscreen, bright cabin and cockpit interior, downriggers, fishing chairs, and the necessary electronics.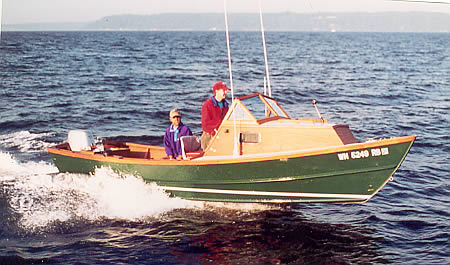 Here's that boat heading out.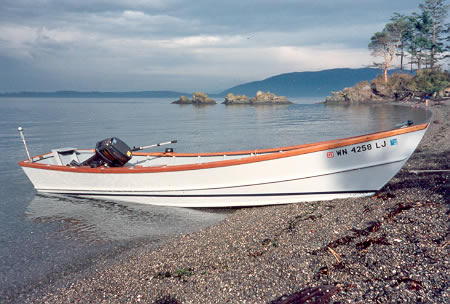 This is an example of an open 21' dory. We put the motor in a well to improve the boat's balance. This boat steers with a tiller extension. Very simple, very practical. Notice that the motor tilts up in the well entirely inside the boat.

An open dory running slowly. See how light she is, already up on top of the water at this speed. Very little wake.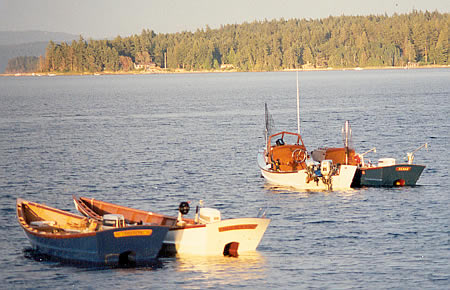 The 21' Nexus Dory has been built in many configurations for many purposes. So whether you want a boat for inshore fishing, offshore fishing, beach camping, island hopping, family outings, or just a pickup truck of a boat, this versatile boat can do the job.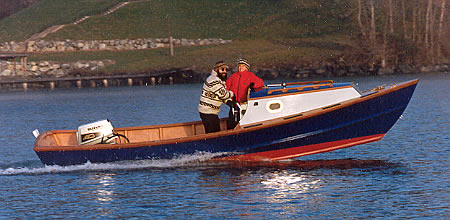 This boat went to Sitka, Alaska, where she caught enough halibut to feed a hatchery crew, among other duties. According to the owner, you just put a shark hook through the head, pull 'em up until the hook digs into the bottom of the guard, tie the line off to the opposite gun'l, then sit on that gun'l and wait for 'em to suffocate. Then a couple of people can flip 'em into the boat. This procedure is for serious halibut.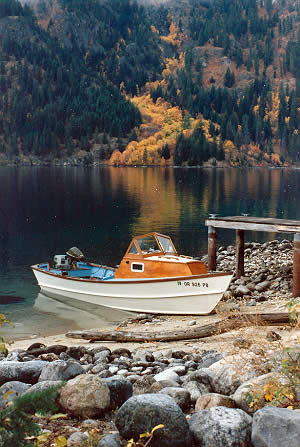 This boat fits in well on a mountain lake.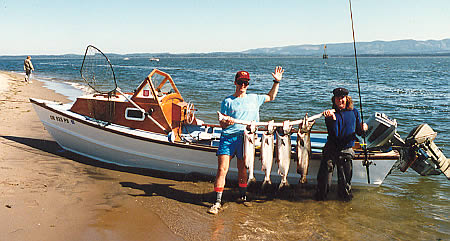 Or catching salmon at the Buoy 10 fishery at the mouth of the Columbia River.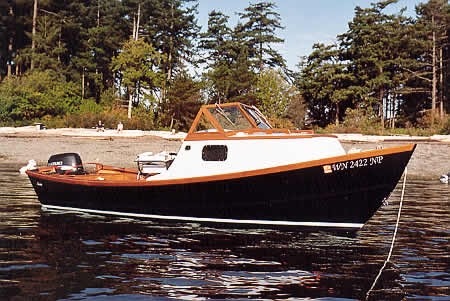 Here's our latest 21' Dory anchored up in a lovely bay in the San Juan Islands. One of the great things about these boats is that you just run them ashore to load and unload people and camping gear. Because of their shallow draft, you get usually manage it without getting your feet wet.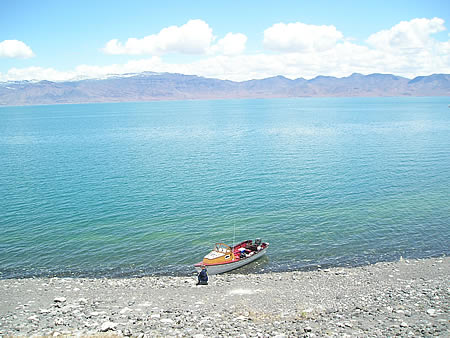 If you happen to live in America's Great Southwest, there are some serious boating opportunities. Here we see Wanderer in Pyramid Lake.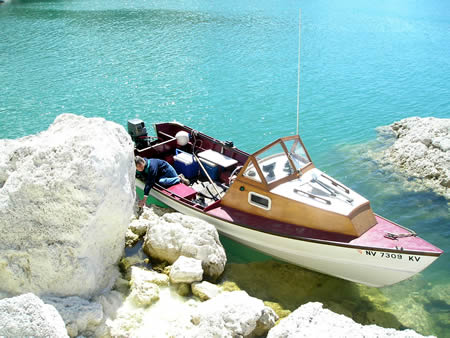 Here's Wanderer in Pyramid Lake again, playing among the rocks. You can get your dory on this page, too, by simply owning or building one and sending us a really fabulous photo.