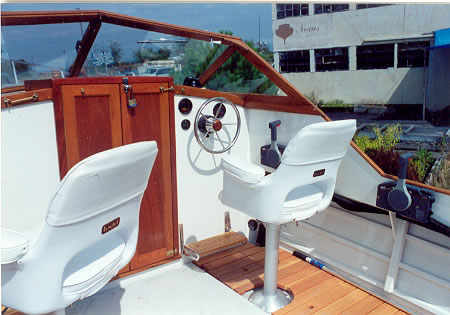 Cockpit of the David Sea. This is a simple, durable setup. White rotomolded chairs are no maintenance. Just toss the cushions in the cabin between uses. Side mounted controls for main and auxiliary motors are located for single handed salmon trolling. This boat has the raised hatch and fir floorboards of our earlier work. These have stood the test of time and are much beloved by their owners. In this boat, the wheel and instruments are mounted through the bulkhead. This is the simplest. We have also used consoles for these in a number of boats of this size. Notice the frame and stringer arrangement stiffening the hull sides. The frames do not penetrate the cockpit sole, a clean and durable construction technique.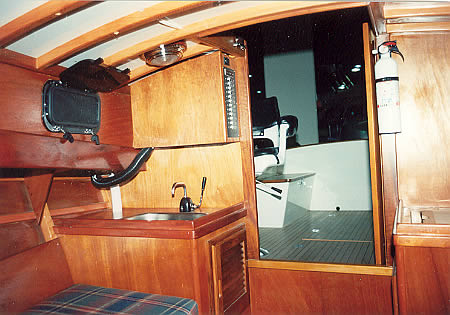 In the Liza Bee, looking through the companionway into the cockpit. The owner chose teak cockpit sole with flush hatches for his boat. There are a pair of teak-topped seats in the cockpit up against the splashwell bulkhead. The interior is of African mahogany plywood, trimmed with Honduras mahogany. The box above the sink hides the steering gear and instruments, and serves as a mounting point for the breaker panel.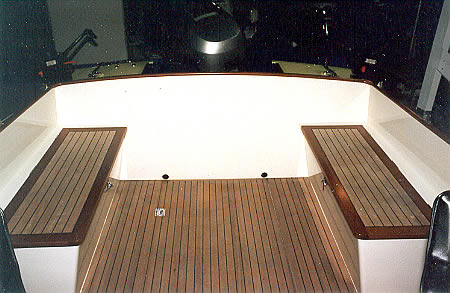 This is the Liza Bee's cockpit. The cockpit sole and seat box tops are covered with 3/16" thick teak set in epoxy, with black epoxy plank seams. The seat boxes also give access to the space under the stern deck. The cockpit sole self bails into the splashwell through the visible drains and other drains which connect to the hatch waterways. The chrome object in the cockpit sole is one of the hatch lift handles. Flush hatches in the cockpit sole give access to the huge, dry storage volume beneath the sole. In all our V-bottom boats the custom aluminum fuel tanks can be serviced or removed through these hatches. A cruising photo of Liza Bee can be seen on our Chinook Exteriors web page. This photo was taken at a boat show, hence the indifferent lighting and boarding stairs just visible on the port side.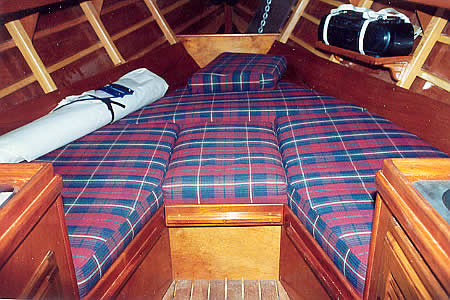 In the cabin of Yankee. The visible frames, stringers, and planking make it obvious that this is a wooden boat. The short plywood ceiling beside the berth cushions creates ventilation for the compartments under the berth. The center cushion has a Porta-Potti under it. The anchor chain, laying against a foam and fabric "thump pad" is visible above the anchor rode area. This anchor rode system works well even in a fast boat like this. We put in a shelf for the owner's boom box, so he could have tunes aboard and then carry them ashore when camping.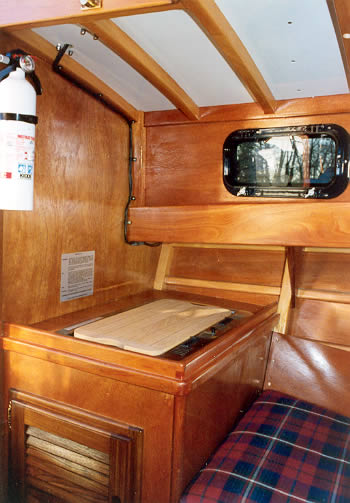 Looking to port at the alcohol stove in Yankee. This is a 2-burner wick type stove that has been a good shipmate for many of our owners. We can build in custom dish and pot holders in a cabinet like this to hold your onboard cookery implements.